Tuesday, 22 October 2013
I wore my
beautiful owl clips
by Ladybirdlikes today and it's given me the wants on a massive scale!
Ladybirdlikes makes all kinds of cool stuff. I've fallen in love with this
wooden anchor bow tie
, it comes in cherry or birch and is a bargain at only 14 squid. Here's a picture: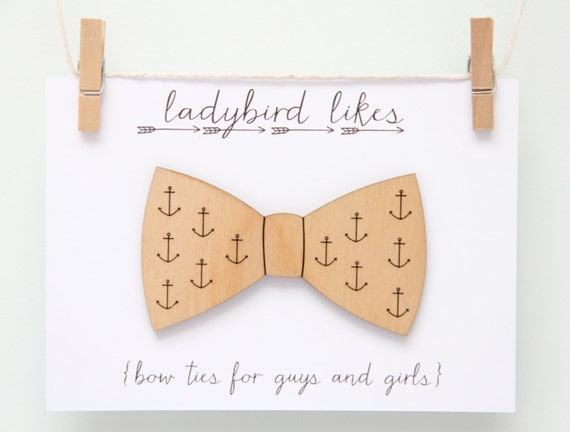 I'm also coveting this Halloween inspired
bones necklace
from Tatty Devine. It's fifty English pounds but I think it's deffo worth it. It has the added bonus (no pun intended) of reminding me of my favourite Flintsone - Pebbles. Look at the pretty colours.
Wednesday, 16 October 2013
Gah, I've really neglected this blog... I've been so busy, August is always like that. Birth month, innit... I spent a long weekend in Berlin at the end of August. We stayed in a beautiful flat not far from Kotti and I finally got to check Mauer Park Flohmarkt. It was heaving and expensive BUT I did get some very cool old photos for the collection and a sweet little necklace for my boyfriend's sister. We checked the bearpit karaoke that I've heard so much about and was simultaneously disappointed and heartened by the lack of booing for the worst singers... I imagined myself in the pit on my first Sunday as a Berliner (LOL) singing my heart out to Bonny Tyler, a rite of passage in my new home. Or erm maybe not.
I'm now five lessons into my German language class. As a consequence my weekends have been quieter – I've been skint after spending all my money on cocktails and photos of randoms in Berlin anyway....
I have a sign on my desk at work. It's just a tatty bit of paper ripped out of my note book sellotaped to the bottom of my screen. It says one word: Berlin